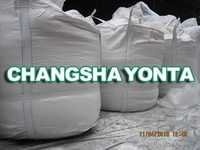 Manganese Sulphate Monohydrate
Price And Quantity
25Mts

Metric Ton/Metric Tons
Product Specifications
Manganous(II)Sulfate Monohydrate

2833.299090
Manganese Sulphate Monohydrate

10034-96-5
Industrial / Agriculture Grade
Product Description
Product Identification
CAS No. : 10034-96-5
EINECS No. : 232-089-9
H.S. Code : 2833.299090
Formula : MnSO4.H2O
Molecular Weight : 169.01
Synonyms : Manganous(II)Sulfate Monohydrate; Sulfuric Acid Manganese Salt (1:1) Monohydrat
Physical And Chemical Properties
Physical State : Pink Hygroscopic Powder or Granular
Melting Point : 700 oC
Boiling Point : 850 oC
Specific Gravity : 2.95
Solubility in water : 5-10 g/100ml
NFPA Ratings : Health: 2; Flammability: 0; Reactivity: 1
Stability : Stable
Applications
Industrial Grade


- Making dryer of ink and paint.
- Catalyzer of synthetic fatty acid.
- Production for manganese compound.
- Electrolyze metallic manganese, dyeing of manganese oxide. ceramics, printing and dyeing,
Medicine and ore floatation, etc.
- Making batteries, smelting catalyst, analytical reagents, mordant,
- Coatings industry for the production of driers and manganese linoleate.

Agriculture Grade


- The important trace element fertilizers.
- Cataolyst of synthesizing plants chlorophyll to promote plants growing and increase harvest.
- Seed soaking seed dressing, top dressing and foliar spray, it can promote the crop growth and Increase production.
- Feed additives in livestock and feed industry to promote animals grow healthily and fatly.
Specification
Testing Items / Quality Standard - Powder / Quality Standard - Granular
Purity - MnSO4.H2O : 98% Min -
Mn : 31.8% Min / 30% Min
Pb : 0.0015% Max / 0.002% Max
As : 0.0005% Max / 0.0005% Max
Cd : 0.001% Max / 0.002% Max
Insoluble Matter : 0.05% Max / -
Particle Size : 99.5% Min(Through 60Mesh) / 1-2mm, 2-4mm
Transportation
Storage : Sealed, in cool and dry place
Packing : In 25kgs / 50kgs / 1000kgs net p.p. woven bags
Hazard Class : 9
UN No. : 3077
Trade Information
Huangpu, China

10000 Per Year
In 25kgs / 50kgs / 1000kgs net p.p. woven bags
Contact Us
Rm.1717, North Bldg. No. 368, East 2nd Ring Road (2nd Section), Changsha, Hunan, 410016, China
Phone :86-731-85352228